As a real estate agent, you have a lot on your plate. You would be looking for buyers for your listed properties likewise assisting your buyer pool in finding a home that meets their requirements. Real estate, like most industries, is increasingly moving toward digital techniques and tools to improve customer service.
One new approach is to use Virtual Reality (VR) technology. Virtual tours give customers a more realistic, engaging, and interactive house-hunting experience.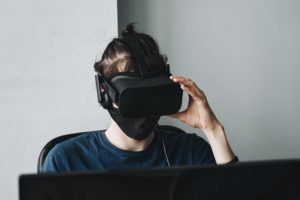 Virtual Reality Technology
This pandemic has increased consumers' confidence in online purchases, and virtual reality is a growing medium for creating a digital experience.
So, What exactly is a Virtual Tour?
A virtual 3d tour is a digital walkthrough of your real estate property. Agents can market their listings with one of two types of 3D virtual tours.
Guided Visits
Guided tours are more analogous to promotional videos and are ideal for real estate promotion since they are simple to create—you can even do it with your smartphone. Guided tours in VR, on the other hand, are either entirely virtual or 360-degree videos.
Interactive visits
These tours give clients the liberty to choose how they want to interact with the property. They can select which area of a property to explore by clicking on distinct hotspots in the line of sight. While creating interactive tours is more challenging than creating guided tours, interactive videos provide buyers with a better and more visually stunning sense of the property.
The Advantages of Using VR as a Marketing Tool:
Know the benefits of incorporating virtual reality capabilities into your marketing strategy:
Superior Customer Experience
The greatest strength of VR is its ability to provide potential buyers with a realistic and interactive property experience. Real estate marketers can smartly leverage this power by allowing clients to explore the property before they sign on the dotted line.
Buyers who take virtual tours of properties they are interested in are more likely to make an offer, and they do so faster. The tour gets them a feel of the space before actually buying it.
Build a great Real Estate Experience for your customers :
Start today with
Reale 360
!!
Saves a lot of time & money for all the parties involved
When prospective buyers have the option of viewing a virtual property tour, they can see more of them faster, avoiding the need for you and your buyers to physically visit each property. Realtors also save time and money by eliminating costly viewings.
The primary advantage of shortening the discovery process is that it allows marketers to close deals faster, increasing their ability to serve more clients immediately.
Reach more buyers
Virtual tours will extend your reach and assist you in attracting more buyers. It can help you reach out to remote buyers, both international and on the other side of the country. 
Even if the home viewed via virtual tour isn't essentially what the prospect is looking for, they are still more likely to contact you for more options.
While creating a virtual tour, a simple and shareable link is generated that can easily be shared to buyers, friends, on social media, or even a link or QR code on your business cards. This allows you to easily display your VT listings to a much larger and more engaged audience.
Brand Yourself as Client-Oriented Business
Branding your business implies constantly putting your name in front of prospective customers and presenting yourself in the way you want to be seen. Virtual tours are one innovative way to present yourself as a client-oriented business. You are exhibiting to your clients that you commit time and effort to utilize the best technology and marketing tools available. It shows that you are willing to go above and beyond for their comfort and overall experience.